Barbara Shapiro becomes a Certified Financial Transitionist ™
A certification to help clients avoid destructive behavior so they can achieve better outcomes
Dedham, Massachusetts (HMS Financial Group) June, 8, 2016 – We are proud to announce that Barbara Shapiro is now a Certified Financial Transitionist™.
Barbara Shapiro EdM 2, MFS, CPF®, CFS,CDFA has just enhanced her skills by becoming a Certified Financial TransitionistTM (a CeFT).
Ms. Shapiro has been a CFP since 1995 and became one of the first CDFAs (Certified Divorce Financial Analysts ) in Massachusetts. With the new certification, she intends to expand her practice to include people in all types of transition.
"I am proud to have become a Certified Financial Transitionist, as I believe now I am a better financial planner, more prepared to help people deal with the emotional and psychological aspects of having a sudden change of financial circumstance," said Barbara Shapiro, President of HMS Financial Group.
"Change can bring about obstacles, anxiety and even chronic physical problems, in addition to financial problems. I believe the financial services industry should not just focus on the numbers and dollars, but more the people that get impacted by the changes that life brings," said Shapiro.
"As a Certified Financial Transitionist, I can advance the client-planner relationship and can guide someone through a transition. At the core of this relationship there is much more listening. A safe space is created so clients can make one good decision at a time. As a Certified Financial Transitionist, I strive to learn more about the client, the challenges and complexities of financial transitions. Then issues can be unraveled so the I can help improve each client's thought process, with a goal of avoiding destructive behavior so clients can achieve better outcomes," added Shapiro.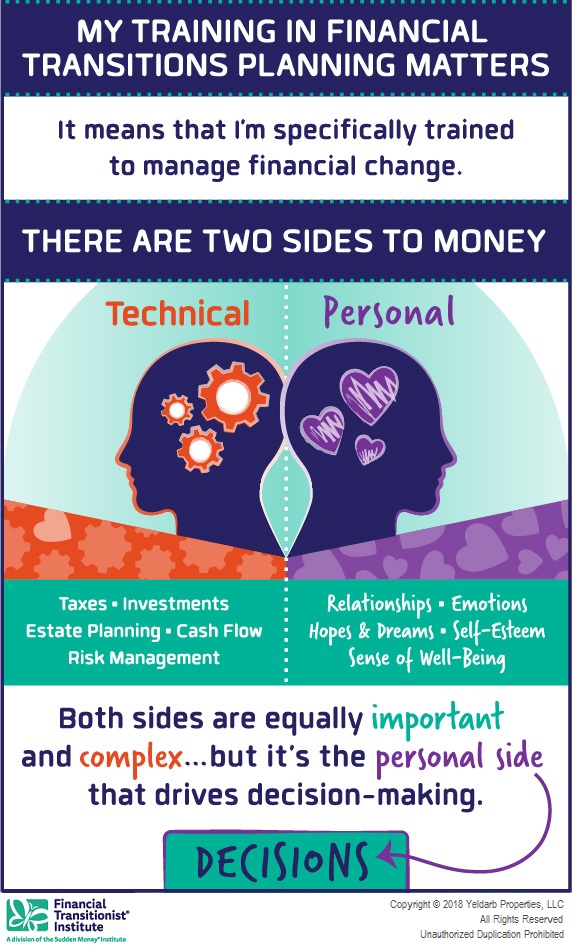 A Certified Financial Transitionist focuses squarely on the personal side and integrates it fully into the technical side to create solutions that are customized for each client's unique values, relationships and vision of the future.
What is a Certified Financial Transitionist (CeFT™)?
Every person will experience at least one of the following major life transitions, and the likelihood that more than one at a time will be experienced increases with age.
Inheritance
Loss of parent
Loss of a spouse
Divorce
Major career change
Retirement
The sale of a business
Insurance settlement
Pro sports or entertainer contract
Whether they begin with an inheritance, the sale of a business, or both simultaneously, transitions thrust individuals and families into a position where what was once considered stable is suddenly in flux. Traditional financial planning definitely covers the bases when it comes to important topics such as taxes, investments, cash flow, and estate planning. But that's only half of the experience of financial change. The other half is the human experience.
The Sudden Money® Institute has spent 16 years studying the psychology, sociology, and neuroscience of change. They've even delved into what thought leaders in the business world say about change and adaptation. As important, they know that perceptions and expectations about change are powerful and can profoundly affect thinking and decision-making.
The Sudden Money® Institute created the Certified Financial Transitionist™ (CeFT™) designation to give financial planners and their clients science-based, field-tested tools and protocols designed specifically to merge the personal side and the technical side of financial change. This new designation comes only after candidates demonstrate fluency in the stages of transition, the use of the Sudden Money® Institute proprietary materials, and the unique skill set of the CeFT™. That yearlong-plus process includes mandatory coaching, over 30 hours of coursework, and a 1.5-day Certification Exam that tests content, communication, and listening.
The result? Professionals who can create solutions that are customized for each client's unique values, relationships, and vision of the future.
About Barbara Shapiro
Barbara Shapiro is the President of HMS Financial Group located in Dedham, Massachusetts. She is a Certified Financial Transitionist (CeFT™), CFP®, Certified Divorce Financial Analyst and a member of the Financial Planning Association of Massachusetts. She is also co-author of "He Said: She Said: A Practical Guide to Finance and Money During Divorce."
Her firm specializes in comprehensive financial planning with a subspecialty in divorce that assists clients' transition from marriage to independence with peace of mind and confidence. Learn more at HMS-Financial.com.
About Sudden Money Institute
Read more at http://www.suddenmoney.com/about-us
###
Sources for more information
• Visit HMS Financial at https://hms-financial.com/
• Lean more about the Sudden Money Institute at SuddenMoney.com
For more information contact
Barbara Shapiro EdM 2, MFS, CPF®, CFS,CDFA, CeFTTM
HMS Financial Group
333 Elm Street
Dedham, MA 02026
781-251-2655
bshapiro@hms-financial.com
Susan Bradley, CFP® , CeFT™
Founder, Sudden Money Institute
561-776-6209
Susan@Suddenmoney.com