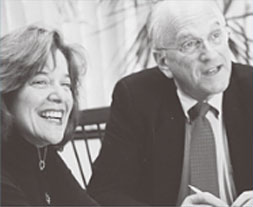 Founded in 1988 as an independent firm, HMS Financial Group is committed to ethical and personal financial planning and wealth management. Operating as an Office of Supervisory Jurisdiction (OSJ) for one of the largest, independent investment broker/dealers* in the United States, HMS does not have proprietary products, and has no vested interest other than the financial success of its clients.
In our financial planning and investment philosophy, HMS Financial Group separates itself from mainstream brokerage firms and other financial planners. HMS maintains market objectivity and caters solely to the needs and goals of each client because we operate without quotas, proprietary products, incentive commissions, or production schedules. At HMS, compensation is structured around our clients' individual circumstances and comfort levels. HMS Financial Group has no vested interest other than the success of our clients.
For our clients facing divorce, HMS offers the Circle of Support, led by Barbara Shapiro, President at HMS, and CFP® Certified Divorce Financial Analyst. We specialize in comprehensive financial planning that will assist our clients to transition from marriage to independence with peace of mind and confidence. Barbara may work with the individual client, with the client and his or her attorney, or with the divorce attorney alone.
The HMS Financial Group mission is to serve all of our clients with both the highest ethical values and cutting-edge financial savvy. We work every day to earn the trust of our valued clients and at the same time maximize our clients' financial positions. Ongoing close communication, in conjunction with our deep knowledge of economic trends, tax laws, and investment products, keeps our clients' vision clearly in view.
Sadly, our founder, Vice-President and Barbara's husband, Herb Shapiro, passed away in October 2016. His core values of providing personal service, maintaining market objectivity, and high standards of integrity and honesty with the clients he served, are deeply ingrained in the HMS Philosophy.
*Securities offered through Cadaret, Grant & Co., Inc., member FINRA/SIPC. HMS Financial and Cadaret, Grant & Co., Inc. are separate entities.